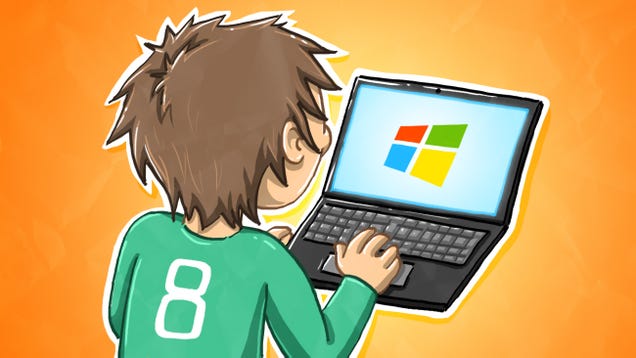 Image from LifeHacker.com
In the past, I'm a Microsoft fan, it means that I try to use all of Microsoft softwares and devices instead of trying things from the others. But then, I found out that not all Microsoft softwares were good, and I've made a many changes:
From Windows 8 to Mac OS X
Mac OSX has better performance than Windows 8. It won't take a lot of time and eat up all I/O + CPUs for indexing or scanning for viruses.
Mac OSX has better User Experience vs. Windows 8.
Better Bash shell vs. command line tool
Greater software management, I can use Brew or App Store to install apps. Uninstall apps are far more easier.
Better battery life, 5 hours working on Macbook Pro with Mac OSX vs. 3 hours with Windows 8
Great iBooks app
From Android/Windows Phone to iOS
Better user experience
Better apps, especially productivity apps
Faster camera
Better designed
Great iBook app (again)
From .NET to JVM
As a .NET competency lead in my company, I still learn .NET and train people using .NET, but all my personal projects will not be .NET. I've been waiting for something like ASP.NET vNEXT, and I can't wait for it any more. I've try Nancy, Mono, and run these apps on Linux, but there were a lot of struggles. I want to host my apps everywhere and it should be scalable, but ASP.NET has many dependencies like big .NET framework, Windows Server, IIS and it cost me a lot of money for running a small comunity site like Jou.vn.
Mean while, although Java is not as modern and shiny as C#, but Java can be run everywhere, and if I feel not comfortable with Java, I can use Scala/Groovy/Closure/Jython/JRuby to program, and JVM apps have great performance. And JVM community are as great as .NET community.
With JVM, I feel freemdom. With .NET I feel comfortable with it ecosystem, but I also feel just like swimming in a pool instead of sailing a yatch on the ocean.
Maybe ASP.NET vNEXT will become stable in the next couple of year and Linux community will use it for development. And I'm waiting for having a chance to write app by using C# again and host it easily on every environment like the way I do right now with Java. Just wait!
From OneDrive to Google Drive (but I still retain OneDrive)
OneDrive subscription is great, I can have 10TB of online storage as well as Office license for my Mac/Windows. I love OneDrive, but from the last night, I felt so angry because OneDrive doesn't allowed me to play MP4 video files. There's no reason that Microsoft doesn't support for playing a common video files like MP4. So I had to buy 1TB Google Drive subscription for storing my video clips.
Microsof has best office apps for me and Google has best online office apps for collaboration. So I have to use both of them.
I just wish that Microsof support online playing for common video file types. If not, for me, it's just a file storage and just because of Office license.
Now, I'm flexible and I'm not Microsoft fan or any one's fan anymore. I will choose which is best suite for me.
Thanks Microsoft for more than 20 years serving me from MSDOS!